Climbing in Bohuslän
September 14, 2021 / Posted by Marmot Mountain Europe GmbH
---
One of my first experiences of climbing in Bohuslän was with my good friends Sebastian Blyckert and Aleksej Jaruta. I took the bus from Göteborg and they picked me up at the bus station in Hallinden. It was a beautiful summer evening and we went straight to the crag. Sebastian wanted to climb "Laybacksprickan" at Björkberget, translated it means "The layback crack". Ironically most of the climb is an offwidth with butterfly and leg jams. My friends climbed it with ease, I was also keen on giving it a try. Since this was one of my first times crack climbing and with nuts and cams as protection it felt very different from what I was used to, but I made it to the top.
A barefoot climb for warming up
Bohusläns Climbing Club have a nice cottage where you can stay. It's located in Bärfendal where several of the most popular crags are nearby. We went there, had dinner, made an apple pie, finished it, met the nicest cat and slept. The sun was shining when we woke up and we enjoyed the breakfast and coffee in the morning sun before heading to Galgeberget. Aleksej started with climbing "Masken" barefoot and told me it was a good warm up. I struggled a little bit with the fingerjams and the gear, but it turned out fine. We spent most of the day climbing in this scenic cow paddock before we decided to go to Välseröd for a swim in the lake. I have spent many great moments in Bohuslän and It's a special place for me.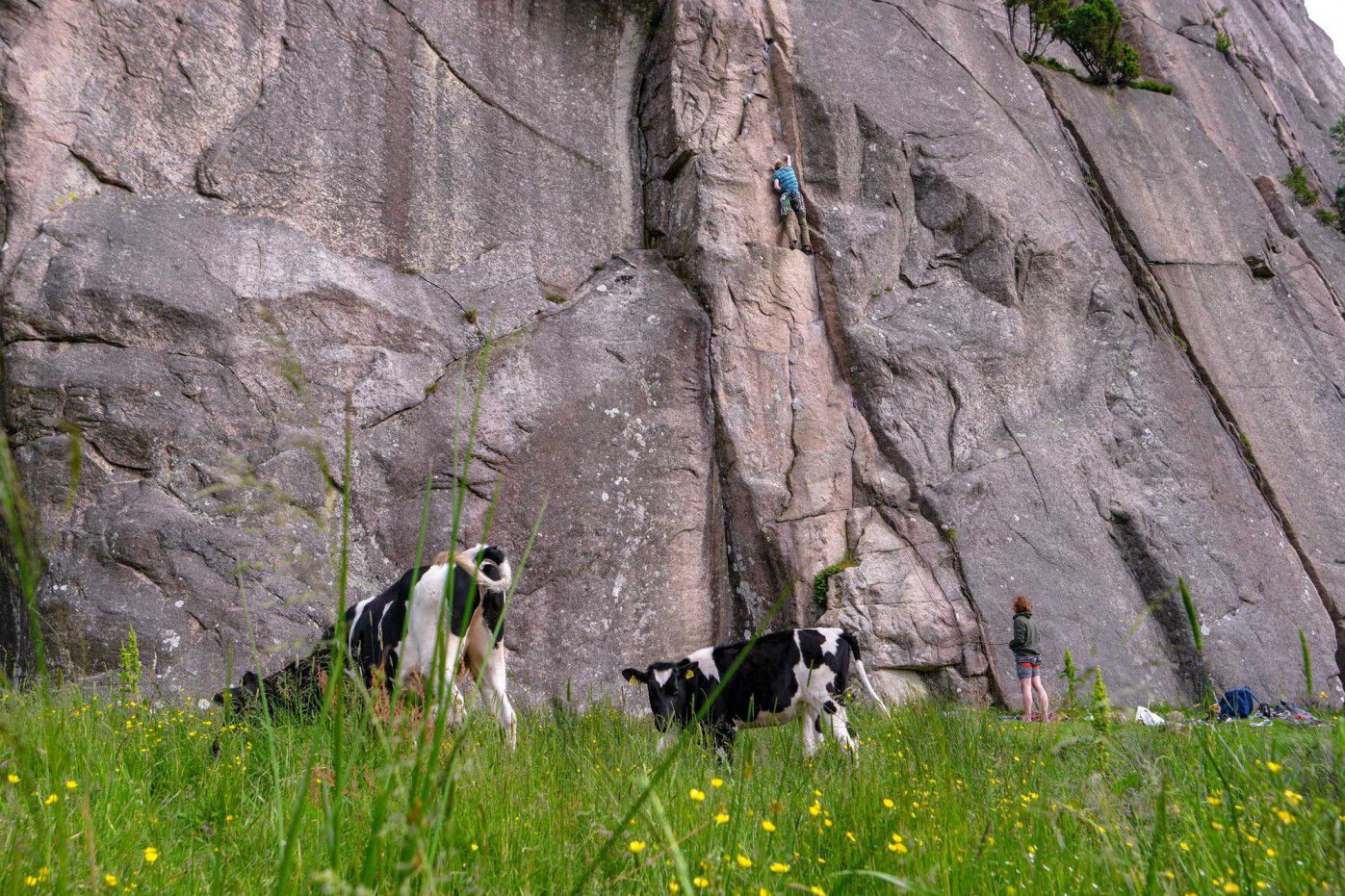 A natural paradise in Sweden
Bohuslän is located on the west coast of Sweden, a bit North of Göteborg. Most of the rock is bomber red granite. The rock is of such high quality that it has been exported all the way to South America and other parts of the world as building material.
The undramatic hilly environment filled with trees, meadows, lakes and the sea makes Bohuslän a beautiful place, perfect for spending a relaxed summer, climbing and spending time in nature. There are plenty of places you can go for a swim, in lakes or in the ocean. In some climbing areas you can take a dip right next to the crag. Since the sea is easily accessible fishing has always been the main business. Fishing huts and small docks are found everywhere. Nowadays the industry is successively moving towards tourism.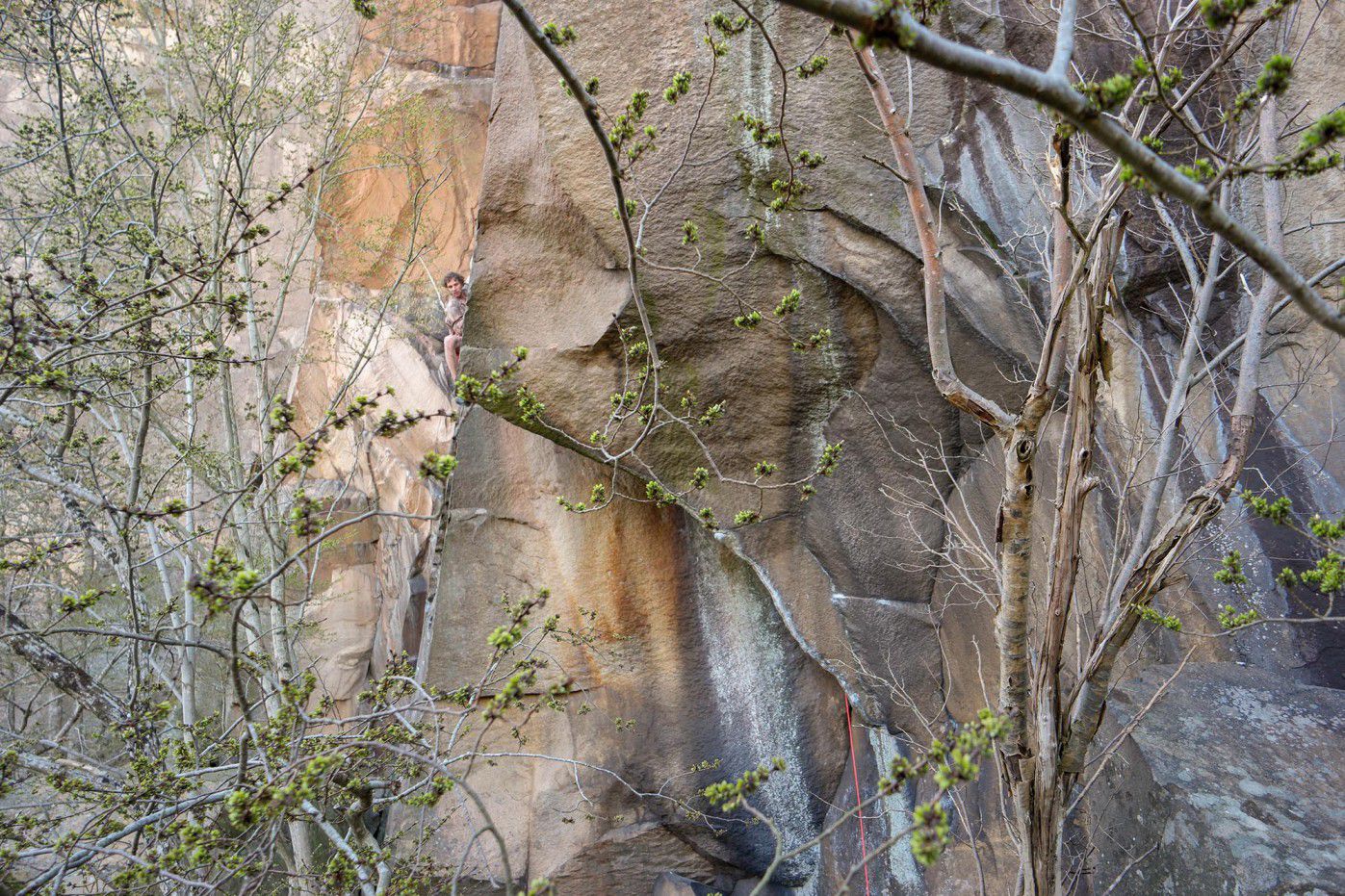 Climbing as diverse as it can be
Single pitch trad climbing is what makes this area unique. There are over 100 crags spread out, each crag offering a slight difference in climbing style. The hundreds of routes go up to the difficulty of 8c, most of the hard routes are still waiting for their first repetitions and there is a lot of potential for more hard routes as well as easy ones. Every year new crags are found and new routes are opened. Each route is special, the technical nature of the climbs hopefully will humble and teach you something new. In general, the quality of the routes is fantastic. Since I have mostly been bouldering and sport climbing I find it very interesting and instructive to climb here. I always learn a new trick on a day out, it could be a tricky jam or a funky slab move.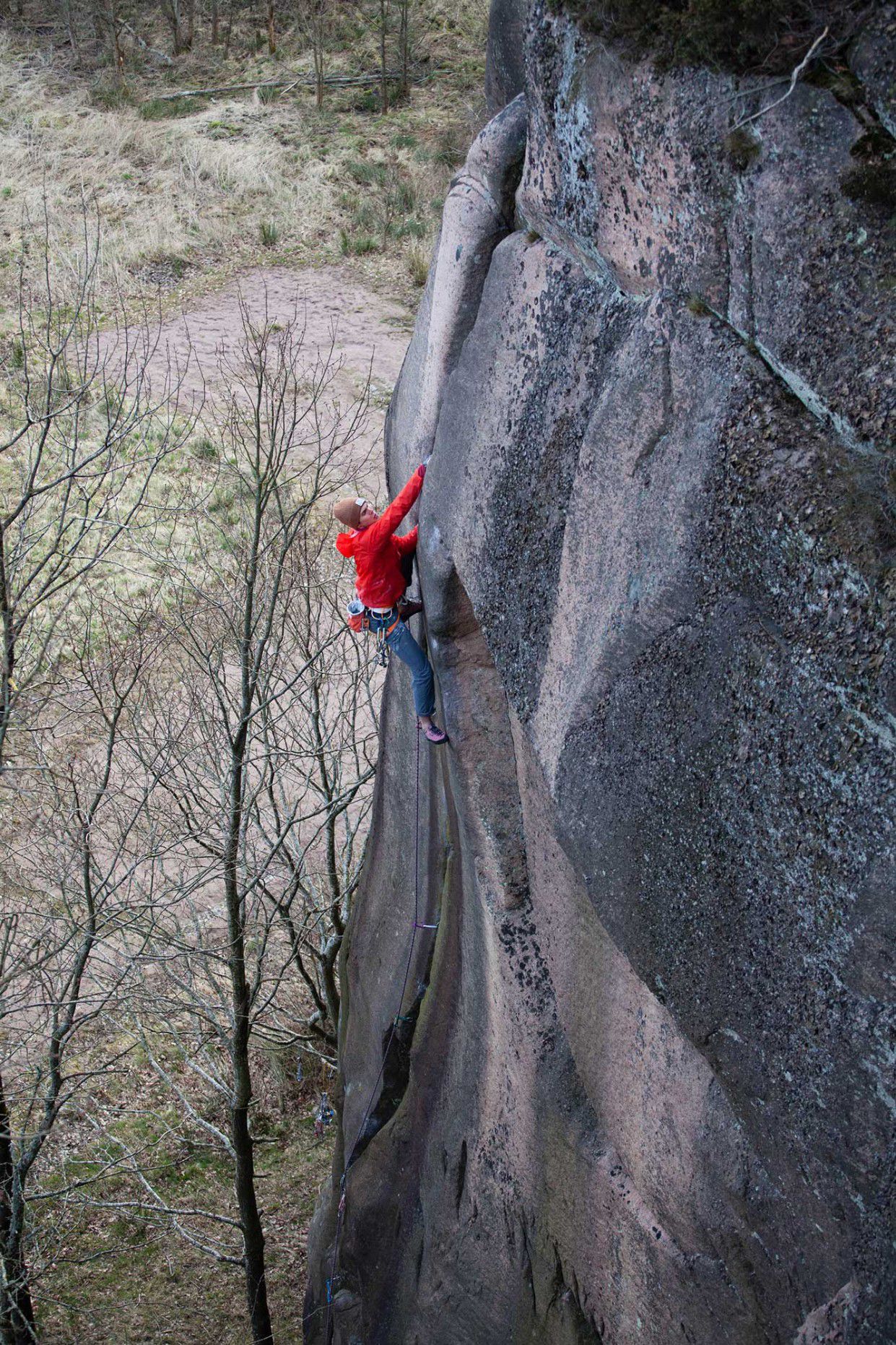 A question of sustainability
The clear ethic of this area is that you shouldn't bolt if you can find protection. Therefore, the possibility of climbing with runouts and bad protection will always be there if you are in the need of something spicy. Most routes are well protected though. Naturally there are arguments between the sport and trad climbing communities about these ethics. It has led to some routes getting its bolts chopped off. Also, some sport routes have been climbed with gear to make a statement.
Bohuslän also has amazing bouldering, the great rock creates some of the best lines I have climbed. The areas are usually rather small and scattered, which is quite typical for the bouldering in Sweden. Some bouldering areas are located at the same place as a crag.
And of course, there is also sport climbing. Some routes are truly astonishing and are very characteristic. But some of the sport crags have a bit more basic and easy-going climbing, like Granitgrottan. It's an easily accessible cave with many routes where you can get pumped or kneebar your way up the steep walls.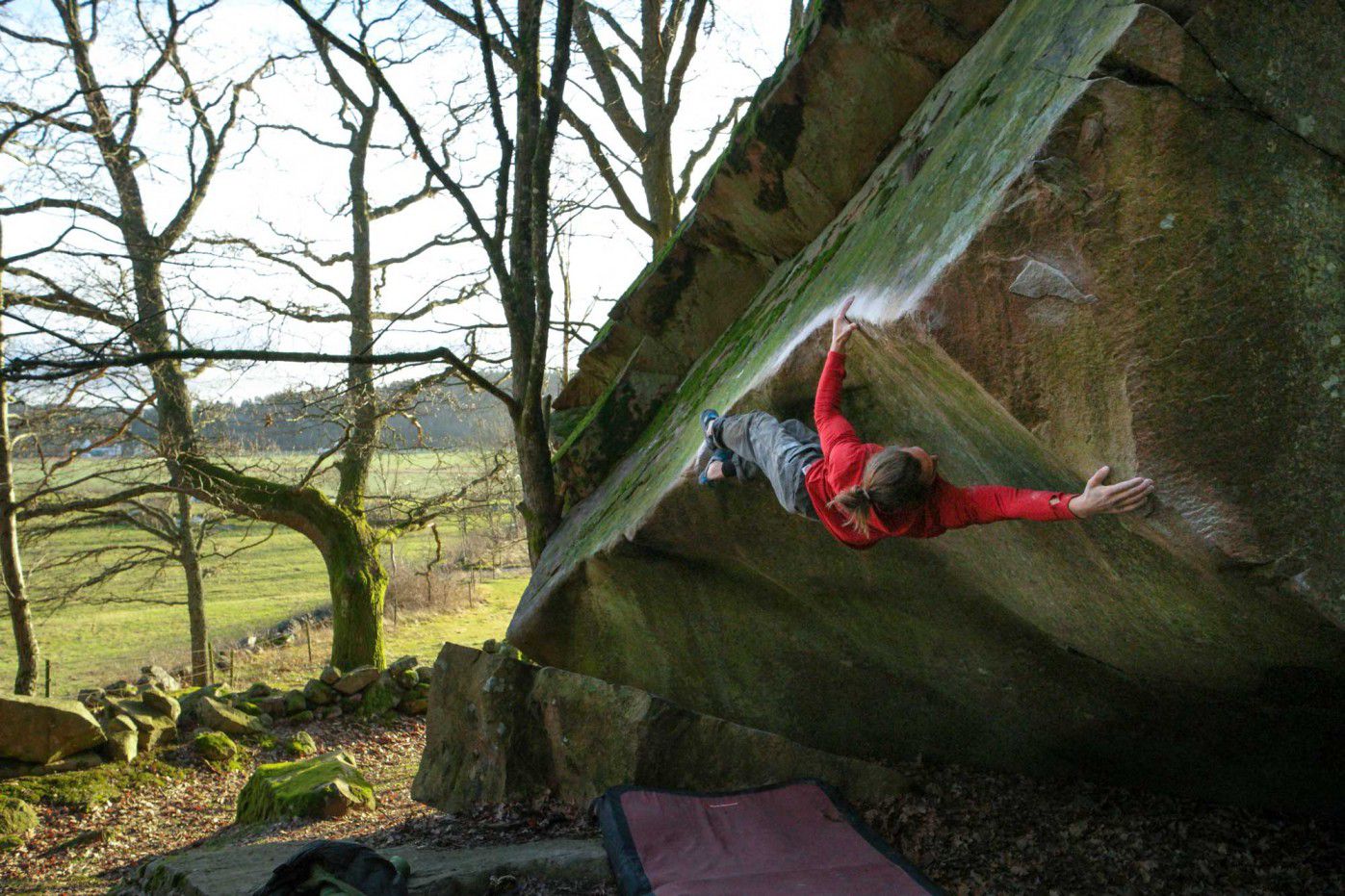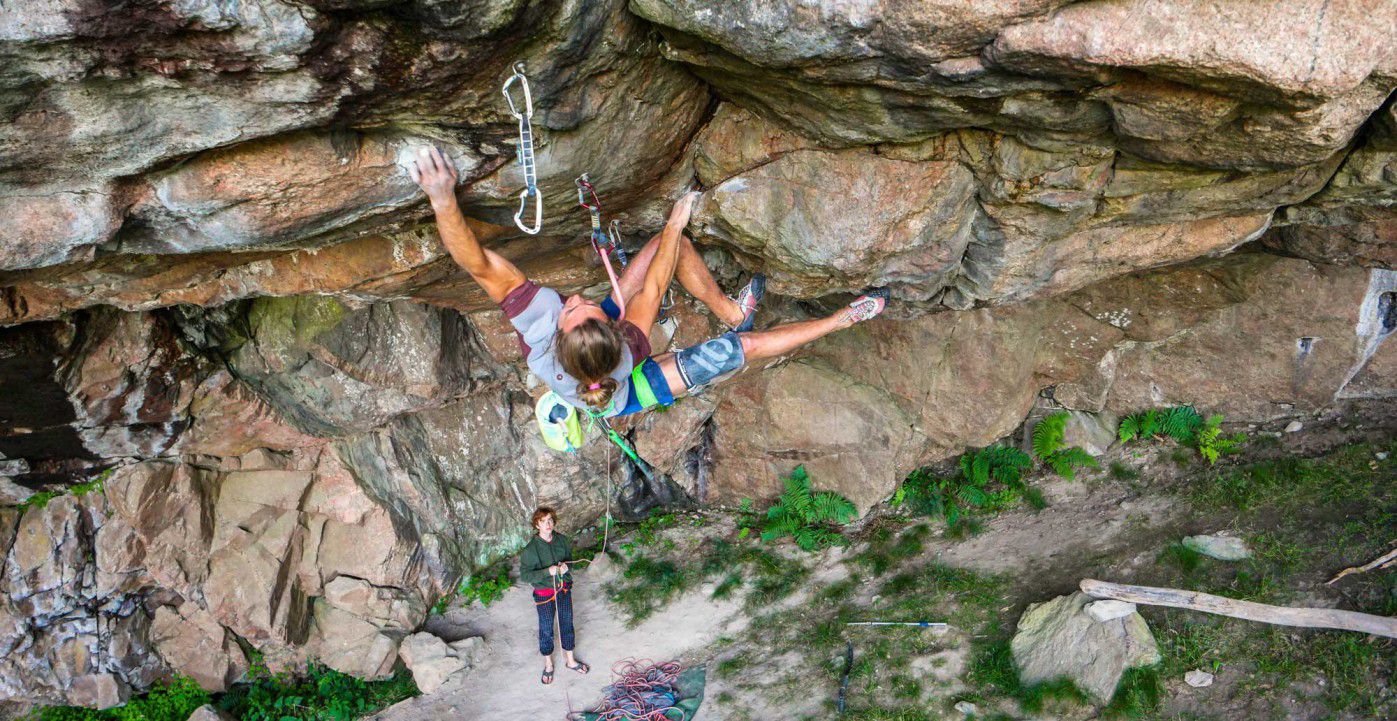 The best seasons to go to Bohuslän are spring, summer and autumn. The best conditions are in spring and autumn but it can be quite rainy sometimes. Summer is also good and if you need cold temperature for better friction you can wake up early and climb in the morning or late in the evening. Sometimes in the winter when you are lucky you can get a dry, cold and golden day, but they are unfortunately quite few.
The mix of technical and beautiful climbs with hard bouldering and places you can go to and get pumped makes this place really unique. You have climbing in difficult levels and styles for everyone, surrounded by beautiful nature. Magical place.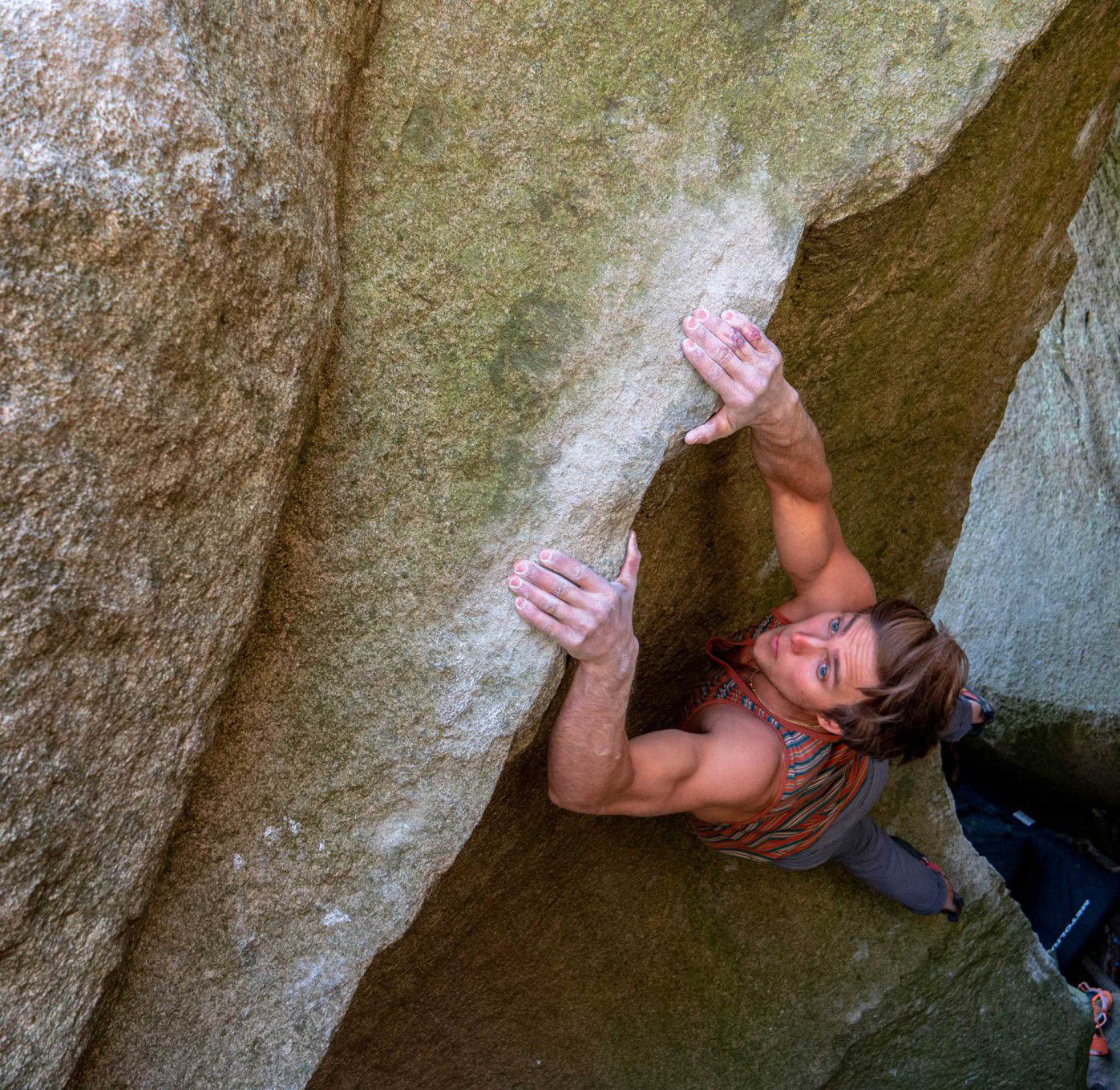 Text: Hannes Puman
Photos: Stefan Droguet, Markus Gillberg, Sebastian Blyckert, Jakob Östman, Hannes Puman