How to become a mountain guide
May 3, 2021/ Posted by Marmot Mountain Europe GmbH
---
Ever since I was a small boy I knew one thing - I loved climbing.I grew up in semi-rural Yorkshire in the north of England surrounded by small gritstone cliffs from 3 to 20 metres high. It was a perfect climbing playground, and I loved exploring the rocks and scrambling around.

When I got a little older I realised there was a whole world of actual climbing - it was a real sport and not something that just little kids did! I quickly became obsessed with the local climbing guidebook and cycled to all of the cliffs and climbed as many of the routes as I could. It was then that I knew I wanted to be a climbing instructor.
The early beginnings
I'd never heard of mountain guides, but I did know of a few outdoor pursuits centers; local places that took children kayaking, sailing, climbing and the like. So, I left school and got a job at one of these centers. From there I learned about outdoor qualifications and I heard about the Mountain Guide qualification. For a young man in England it seemed like an impossible task to become a Mountain Guide, and I thought that I would never become one myself, so I was happy to teach kids to climb on the small local cliffs, and I just went climbing myself every day. Sometimes twice a day actually!
Eventually my obsession with climbing led me up through the climbing grades, and also to work at the National Mountain Center passed in North Wales where I a higher climbing qualification - the Mountain Instructors Award. Most countries have some lower level internal qualifications below the International Mountain Guide Diploma, and these can be good stepping stones to becoming a full guide. For me, I still hadn't ever considered becoming a guide, I didn't really ski, and I had my hands full with local rock climbing (I was still climbing up to twice a day!).
Falling in love with skiing in Switzerland
Some years later my life took me to Chamonix. I'd fulfilled many of my climbing ambitions in the UK and I really wanted to climb the six great north faces of the alps. I thought the best way to do this was to move to Chamonix for a year. I was dead right! I ticked off five of the faces quite quickly, and really increased my alpine experience. And I fell in love with skiing.
A few years of Alpine life later and I realised, quite unwittingly, that I actually had all of the experience needed to apply to join the British Mountain Guide's training scheme. My rock climbing experience was far beyond the requirements due to a life of climbing, and my new found love for skiing meant that I had enough ski days too – so I thought – what the hell! It's probably meant to be!
I signed up and passed the course in three years, being lucky enough to pass each element on my first try. It was a tough experience in many ways, but also very rewarding. I was pleased to have over twenty years of climbing experience in the bank as I felt it really helped my decision making, but I also watched and was impressed by the younger climbers as they passed the courses too.
As a fully qualified IFMGA International Mountain Guide I'm able to take clients on mountains and rock climbs anywhere in the world. I've ski toured through the Alps, summited Mont Blanc numerous times, and taught crevasse and avalanche courses too – but my main passion is long rock climbs. But working as a guide you realise that actually it isn't about what you enjoy, it's about making the right choices for the aspirations of your clients, and I love this element the most as it is always changing.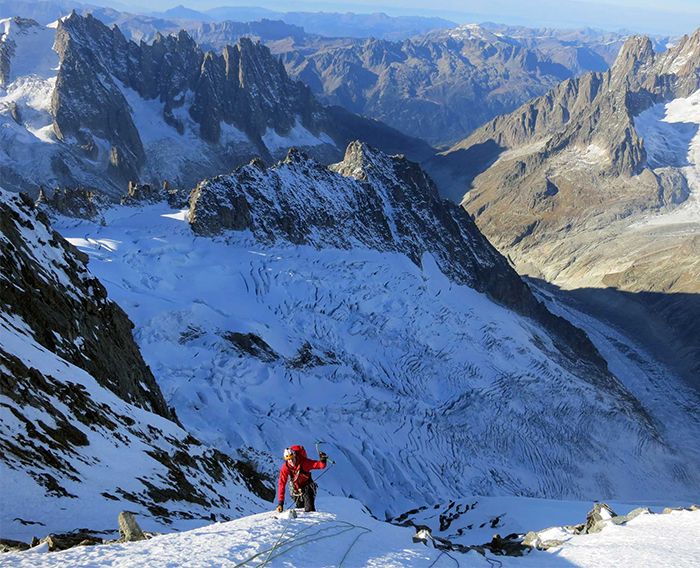 So how does it work? How do you become a guide?
Firstly you need to be a good climber and skier! If you can operate well on big mountain faces, ice climbs, trad rock climbs and technical ski descents, then you're good to go. If that's not you, then even better! You get to go and practise these amazing sports!!
There are many guiding associations across the world that are affiliated to the IFMGA (International Federation of Mountain Guides Associations), and most countries with a climbing heritage have one. For me as I was British, I joined the British Mountain Guides but you should research if your country has an IFMGA affiliated association, or if one of your neighbouring countries has one.
Then you need to apply to join. The application process is different for every association. Some require a huge amount of experience before joining and others require less experience but more specific climbs or summits. Some like the French scheme are hugely over subscribed and have really tough entrance tests to thin the numbers down.
Have fun and enjoy the ride
Exactly what you need to do will depend on the schemes you choose to join. I was lucky in that my life of climbing meant I already had enough experience to join. Whatever you do I would suggest that you enjoy gaining the experience and view it as fun climbing rather than ticking boxes – because that is what it is!
Once you are accepted on to the scheme there will be a series of training courses and tests, usually taking a few years, until you eventually become a Mountain Guide.
All the schemes are different, but on the British scheme the tests roughly breakdown like this: Trad Rock Climbing / Ice and Mixed Climbing / Summer Alpine Climbing / Ski Mountaineering.
I did two summers of aspirant guiding in the alps, working alongside qualified guides before my final exam.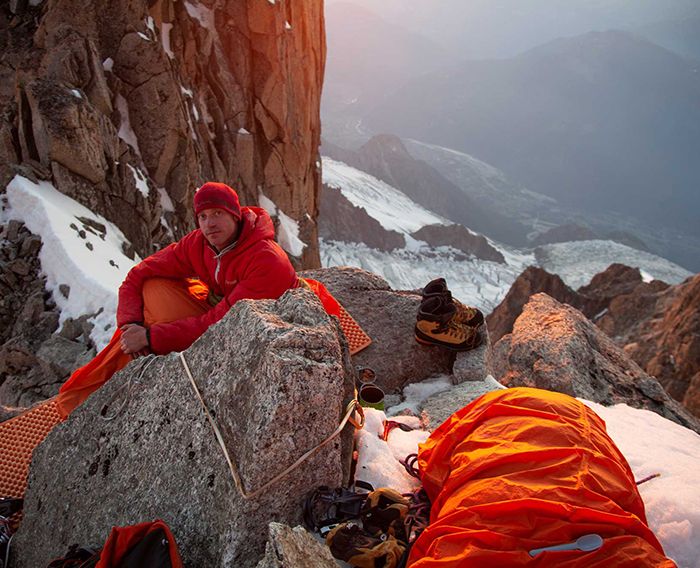 My Top Tips:
One of the hardest parts is to not be injured or ill during any of the courses. On the British scheme if you miss a course day then you have to wait a whole year before continuing. Obviously, this can really slow down your journey to becoming a guide. I did one of my tests when I had the flu, which didn't make for fun climbing in the bad weather of Scottish winter – but at least I didn't miss a year! Some of the other guides on my course had to miss years due to twisted knees, broken legs and other injuries – so be careful! You have to treat each course like a large sporting event – you wouldn't want to train all year for a triathlon only to break your ankle the week before!
Secondly, I would suggest you save up as much money as you can. The courses are expensive and you have to be extremely flexible with other work to be able to spend so much time in the mountains. I had to sleep in the back of my van for almost the whole winter in Scotland whilst doing part of the course, and it made the experience much tougher. If I'd had a little more cash, I could have rented some accommodation and dried out my kit so much more easily. There are only so many nights in a wet sleeping bag before it isn't fun anymore!
Sendtember and Rocktober
Luckily when you have passed as a Mountain Guide, the salary is reasonably good. Although the work is very seasonal and has a risk of injury it does seem that there is a lot of work for good, personable Mountain Guides, and if you are willing to work hard during the spring ski touring season and the alpine summer, you can afford to take quite a bit of time off in the autumn to pursue your own climbing – Sendtember and Rocktober here we come!
And finally – I would say that the course is a great way to grow as a person. The assessments are physically and mentally challenging. Some elements might seem a bit military-esque with brisk orders and early starts, and the personalities you have to navigate can be as complex as the crevasses, but that all adds up to a rich and rewarding qualification that gives you an unbelievable amount of freedom and autonomy in where and how you work.
Would I recommend it? Absolutely. But you really must love getting up early and working hard. Mountain guiding isn't easy, it can be scary, and it can be really, really cold. But often it's all of those things but at the same time totally amazing.
Do it! You won't regret it!
More info on IFMGA Guides here: https://ifmga.info/%3Cnolink%3E/become-professional-mountainguide
---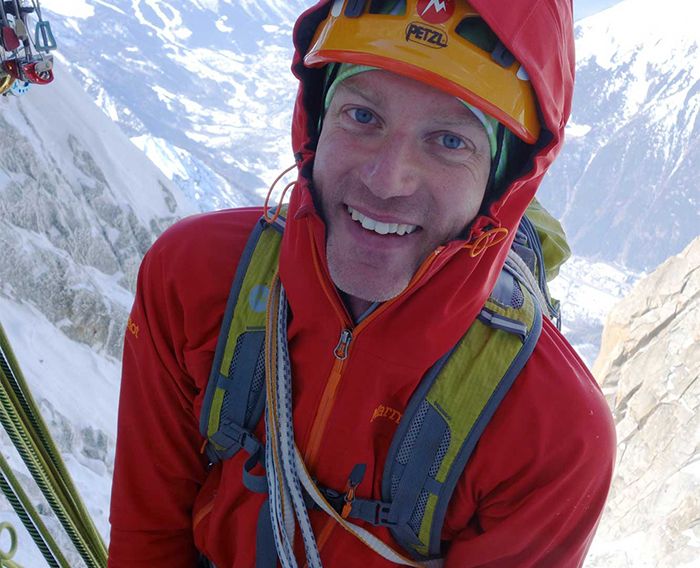 Text & Photos:
Jack Geldard