Le Voyage
June 20, 2023 / Posted by Marmot Mountain Europe GmbH / Text and Photos: Steve McClure
---
Discover Le Voyage, one of the finest hard trad routes I've ever encountered! Climbed by James Pearson in 2017, it held the title of France's toughest traditional route. Over the years, it slipped from my focus, but a recent development reignited my interest. James conquered a harder variation, possibly the world's most challenging trad route. Though that variant proved too tough, the original route beckons once more.
Located in Annot, an hour north of Nice, this sandstone area offers a stunning backdrop. Boulders of all sizes dot the hillside near the serene village. Towering walls striped with striking cracks and aretes await climbers, evoking a sense of adventure. Annot provides a playground for bouldering, sport climbing, trad climbing, and scenic hiking. And don't forget the exquisite French cuisine that completes the experience!
Embark on an unforgettable journey and conquer Le Voyage, an exceptional hard trad route in Annot, France. With its challenges and breathtaking beauty, this climbing destination is a must-visit for adventurers seeking an unparalleled thrill. Honestly, one of the best hard trad routes I've ever done!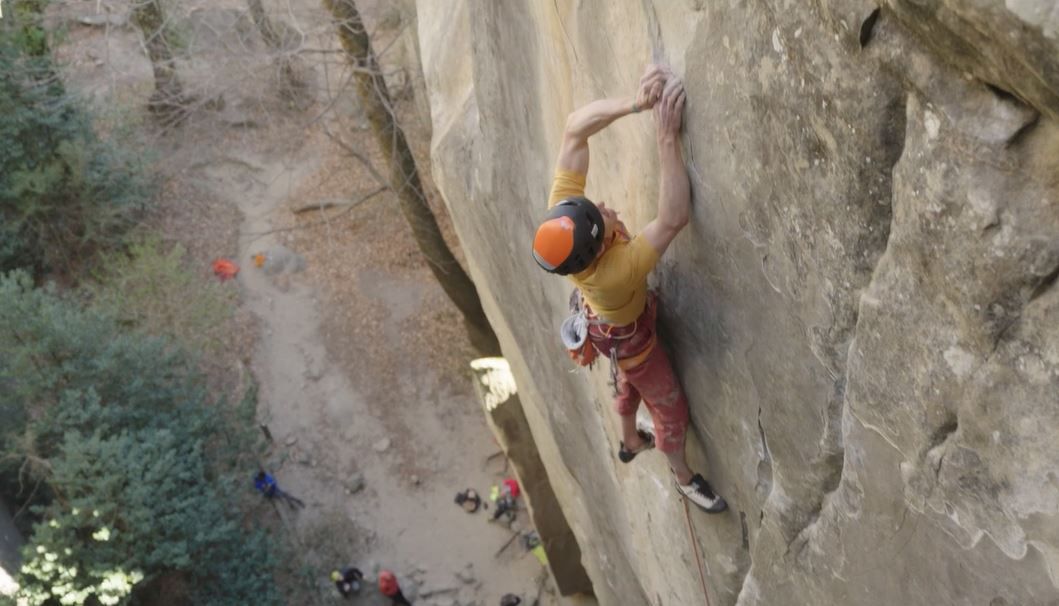 ---
The Beginnings
First day was a steady one, with a few surprisingly awesome 6b and 6c trad routes. One thing that stands out is that your 'warm-up' will not be just a few routes to get warm, but routes that are likely to be some of the best you'll ever do! The start of Le Voyage is already a 7a+ trad crack (which heads off in a different direction) and so I figured it could be a fitting test and way to open the account. Heck that was hard. I blamed my battered knees, injured shoulder, wrist, fingers, cold and illness but clearly, I was just a terrible crack climber. That seemed more than enough for a first day, though obviously, I'd barely even started!
We went back first thing the next day. Another day of lovely sunshine and crisp dry air. Even the 40-minute walk up was not so bad. My friends Dave and Grace were on hand too, with film cameras at the ready to make a mini destination article for BMCTV as well as capture any action that might happen to occur. In the light of day Le Voyage made its presence felt; amongst all the vast walls and huge features and the overall scale of Annot, Le Voyage stands above everything. Its BIG, like 40m, the line is captivating, the rock beautiful. I began, on top-rope of course, glad of all the in-situ gear, not only to pull on, but also to get a feel for the risk. Its trad this route, kind of similar to something you'd find in Britain, with cracks and pockets and edges, protected by a whole bunch of wires, small cams, a bit of tat; and the odd run-out here and there. But instantly I could see this was not really dangerous, so long as the gear was placed well, and ALL the gear was placed. I say 'not dangerous', but of course it still could be, and hanging around on the crux I was aware that the wires below were only sizes 1 and 2 and 3 plus the odd tiny dragonfly cam. Not much between a very hard move and the ground!
---
Tricky crux and fun exploring
And the crux was proving to be very hard! Up to that point I'd been in luck, the climb was tricky but my perfect angle of about 5-10 degrees overhanging with small holds and a chunk of power endurance being key. But the crux was desperate, with an assortment of terrible holds all at the wrong angle and all too far apart!
I tried loads of ways and gave up. Second top-rope was better, taking the route in bite sized chunks and memorising the gear, how it went in and the size. I love this part of the process; playing with the amazing trad gear we have these days and exploring options. Finding something is so rewarding and can be a mental game changer. One minute you're thinking 'Hmmm, this is gonna be scary, I'm not sure I'm up to this', then you find a cunning cam or secret bomber wire and there is a flutter of 'game on'!
About 4 meters below the crux is a solid number 1 wire, but that's a long way and its not a big wire! Then 2 meters below is an OK number 3. Pumpy to place, but in my plan this one had to go in, no skipping it to save energy, that would leave me psychologically too stressed. So that part of the plan was committed. For me, these details are the key. I make all the decisions before I leave the ground, that way there is nothing left to decide on the route. That wire was going to be essential as it seemed the chance of falling was rather high, with the crux not easing no matter how many options I tried.
In the end it was a matter of staring it down. I plugged for a 'my style' approach of two hard crimpy pulls that initially looked impossible. It was a process of 'I want to do it this way, so let's see if I can make it work'. With different foot positions, optimising reach off tiny edges and a bit of momentum I finally managed. Only once, but I could see it would be the way. That was a huge mental step. The route now became 'possible' and I left it at that, happy with the progress.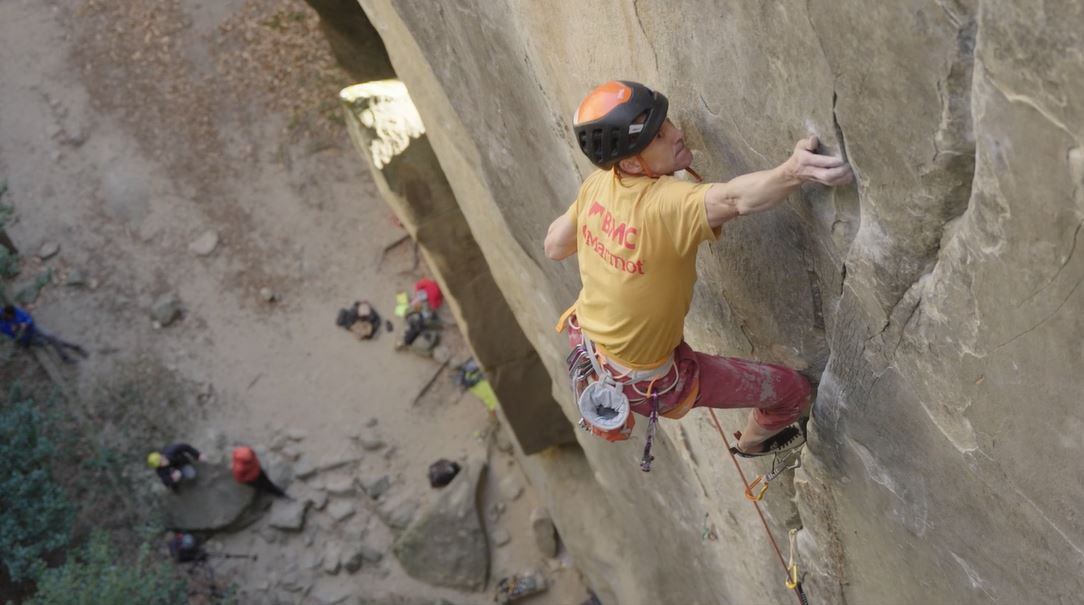 ---
Impatience? Possibly.
Next day a rest day was needed, but somehow we were at the cliff. I pondered a plan. I needed more time on Le Voyage, but could feel a familiar tapping on my shoulder… basically I figured I had a chance to lead all the way up to the crux. If it was a sport route I'd give myself 50:50 odds and would definitely go for it. That tapping on my shoulder, it had been there for quite a few of my recent ascents, those skin-of-teeth efforts where I landed only just on the right side of my absolute limit. All my experience told me a little more practice would seal the deal, and yet with even the slightest sniff of a chance I'm tying in the sharp end.
Impatience? Possibly. Though I think more the challenge of the uncertain outcome. The real buzz is in attacking the route when the chances are slim, not when they are stacked if my favour. I'd gained enough to have a sliver of a chance, and if it worked out, the buzz would be the best it could be. No 'it felt easy in the end' or 'what was all the fuss about', To get Le Voyage first lead effort would be the absolute best I could manage, the hardest possible way for me to climb it, absolutely optimising the challenge to offer the biggest reward.
---
Stick to the sequence
The starting crack felt just as hard; the sort of crack that is climbed differently every time; no amount of practice will help! Sitting in the resting slot after the crack I chatted with folk below. Today there was a real atmosphere; lots of climbers and also James Pearson himself. I could feel the vibe, and I could feel how positive it was, especially from James. Sometimes people, I guess in any and every sport, can be a tad competitive, or at least self-occupied, but James was just so into me trying his route, he wanted me to feel the buzz he'd felt.
And as I pushed on into the hard climbing I forgot all about my odds of success, I was just giving it my best, enthused by the shouts from below. Suddenly I was at the crux. I'd been so focused on the moves and gear my position caught me off-guard. I wasn't ready, this is where I expect to fall off, or grab the wire. But hang on, lets give it a go, why not?
Fatigue levels were red-lining but I threw myself into the first move, dropping into third gear and revving hard. Fingers somehow hit the edge… oh wow, maybe... I dropped into second gear almost exploding every system but trying desperately to keep it together... 'stick to the sequence' I heard myself say; accurate feet on tiny edges. And then I had it, crux done! I literally could not believe it and let that smile begin to form.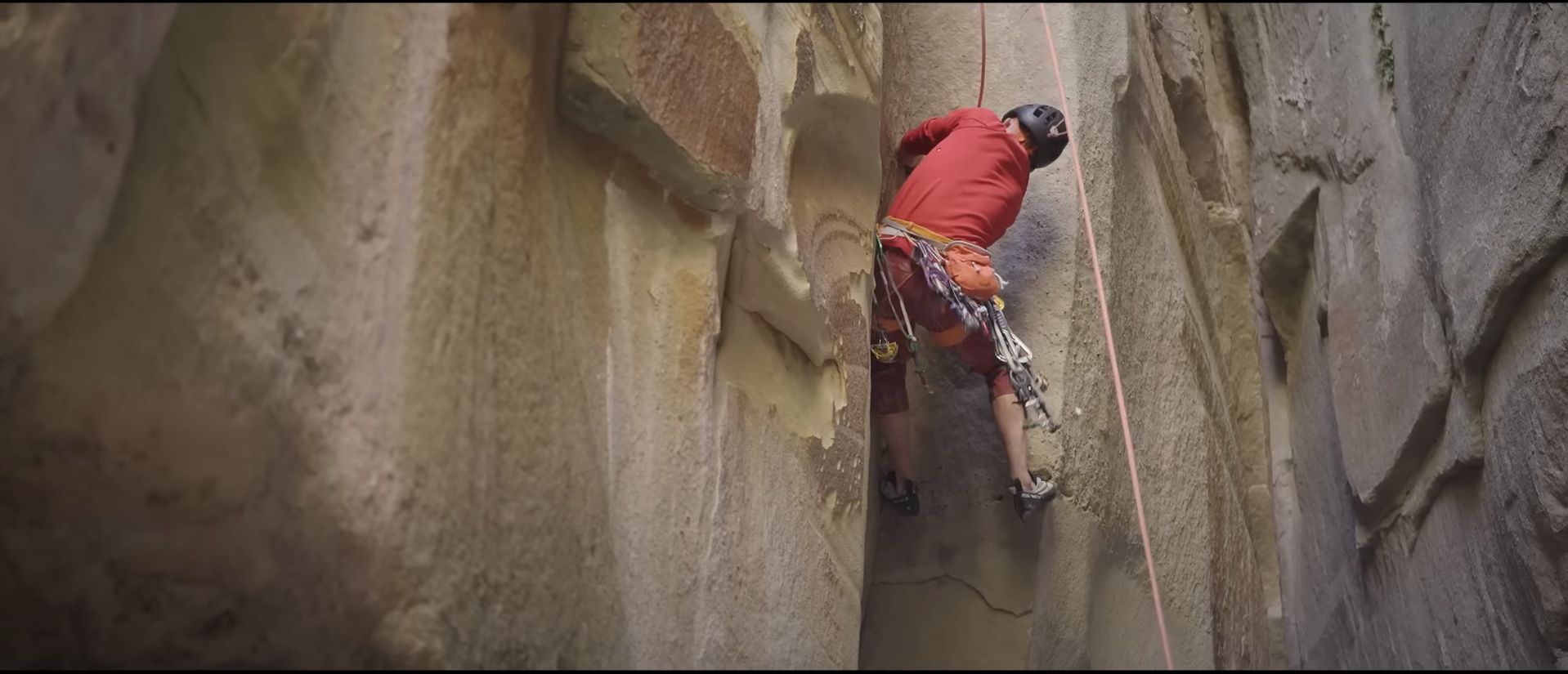 ---
A close fall
Yesterday I'd made the move, just once. Latching the 10mm edge and thinking 'that is a really hard move indeed'. From there it's a bit of a slap to a sloper and another slap to a massive jug. I'd commented 'its not hard here, but you could still fall off'. But surely not. Now I made the slap to the sloper, missed it, readjusted, and then set up for the jug slap… but it wasn't right, I wasn't going to make the distance. Quick re-think; a foot out to the side, ah, no, that's worse. What about a high foot.. nope. Oh NO, I'm off. I felt all my energy gone, like watching a timer as the absolute last grain of sand drops through. Somehow I launched, utterly out of control and absolutely at the end. The jug is huge like a pull-up bar but I was still so close to falling. This was my closest ever to falling off, perhaps in my entire life.
Dave caught it on film. You can see in my face I was shocked at the margin. This was pretty special. Even on the huge jugs I could barely hold on to rest, and I stayed an age before pressing on. The upper section of the route is not trivial, a tough off-hands hand jam, or burly layback; generally a very risky finale. But a fitting finale and latching the top I knew I'd been through something amazing.
Team psyche on the deck was high, they knew for sure I'd been on the edge! Later I pondered my effort. Why try with so little margin? It's always worth it when you fall on the right side of the edge, and the closer to the edge, the bigger the buzz!
The Blog Post is written based of Steve's Le Voyage climb, which was also produced into a movie. You can watch the film here: